Last Updated: 02/09/2021
First Carolina Bank and the Coronavirus Disease 2019 (COVID-19)
First Carolina Bank is closely monitoring and taking actions to respond to the Coronavirus Disease 2019 (COVID-19). The health, safety, and well-being of our customers, employees, and community members are our top priority.
The purpose of this page is to provide information and resources you may find helpful. Please be assured that First Carolina Bank is focusing all its efforts on supporting you, our employees, and our community through this situation.
We are excited to announce we have opened our lobbies to the public as of Monday, June 1st. We will follow social distancing guidelines and only allow 2-3 people in the branch at a time. We are happy to continue assisting you in the drive-thru if you do not wish to enter the branch. Additional services include the ATM, Night Drop, Online Banking, and Mobile Banking.
Follow Reliable Sources for Information
There is a great deal of misinformation circulating regarding COVID-19. Below are some helpful resources that are being updated daily.
Please also be aware that there has been an increase in scams via email, phone, and social media regarding COVID-19. These scams are designed to take advantage of you during this vulnerable time.
What We Are Doing
In monitoring reliable sources - including guidance from the CDC, WHO, OSHA, American Bankers Association, and North Carolina Bankers Association – First Carolina Bank has taken the following steps to protect the health, safety, and well -being of our customers, employees, and community members:
Increased focus on disinfecting surfaces including ATMs, teller line areas, elevator touchpads, door handles, and other high-touch areas

Increased number of hand sanitizing stations available in our branches and offices
Increased education on proper hand washing hygiene, proper cough/sneeze hygiene, proper tissue disposal, and proper social distancing techniques
Increased use of Personal Protective Equipment – including gloves and masks
Encouraging teammates and customers to respect social distancing techniques – including putting six feet between you and the person nearest you and avoiding shaking hands or other physical touch
Requesting teammates and customers conduct meetings by phone or other digital means
Requesting customers use alternate means of banking – including increased use of our ATM, Drive-Thru, Night Drop, Online Banking, and Mobile Banking
Allowing teammates who are able to work from home to stay home
Requiring teammates who are sick to stay home until they are well without the use of symptom-reducing medications
Requiring teammates to limit travel, especially to high-risk locations identified by the CDC, WHO, and other reliable sources listed above
Convenient Ways to Conduct Banking & Financial Transactions from Your Home or Office
First Carolina Bank offers many alternate banking solutions for those that wish to avoid public places or cannot visit us in person during this time.
Go Online!
Our Online Banking and Mobile Banking services are available 24 hours a day, 7 days a week, allowing both consumers and businesses to perform many banking transactions from your home or office location. Banking transactions include the ability to deposit checks, transfer funds between accounts at First Carolina Bank and/or another financial institution, checking your balance, reviewing account activity, paying your bills, making a loan payment, sending money to others using Person-To-Person and more.


Call Us!
With no 1-800 service line, there is always a representative within the branch to assist you with your banking needs or questions during normal business hours.
Rocky Mount Branch - (252) 937-2152
Reidsville Branch - (336) 361-4088
Raleigh Branch - (919) 809-7869
Wilmington Branch - (910) 473-5935
Virginia Beach Office - (757) 447-9002
Cary Branch - (919) 289-8680
Check Out Our Website!
Review our business and personal products and services online 24 hours a day, 7 days a week. We also have a Contact Us form available on our website that allows you send us a message with any questions you may have.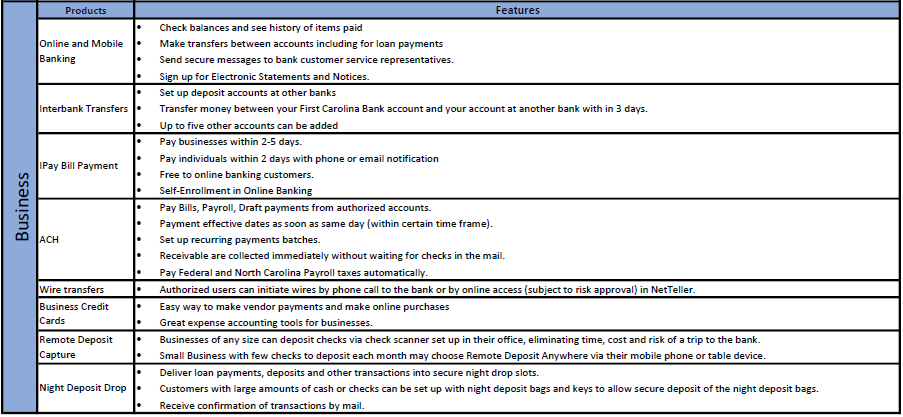 Increased Cybersecurity Awareness
The security of our customers' accounts is a top priority for us. Banks across the country are reporting scams targeting their customers, primarily through the use of text message and email. First Carolina Bank encourages you to visit our official website's Security page to learn more about how to protect yourself.
Where to Find Updates from First Carolina Bank
We will continue to monitor developments surrounding the COVID-19 and will provide updates as they relate to the Bank on our Official Website as well as our social media channels which include:

Local Community Support
Looking for a way to support your local community? Or maybe you're already tired of cooking at home. Check out this list of restaurants offering a variety of options from curb-side pickup to delivery and even gift certificates that can be used later.



OPEN YOUR ACCOUNT TODAY 

We are ready to assist with account opening or answer any questions you may have!